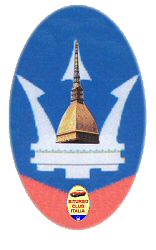 When I read the itinery for the Biturbo Club Italia's forthcoming International Meeting in September, my wife and I decided (did I really say "my wife and I"?) that the combination of good Italian food and Maseratis was the ideal way to spend our Autumn break.

So off we went via a cheap flight from Ryanair (only £90.50 for our return flights from London Stansted to Verona/Brescia). We picked up our hire car, this time a Peugeot 206, courtesy of Hertz (not so cheap though!) and off we went to our favourite holidaying location in Italy, Salo on Lake Garda. Unfortunately we couldn't lunch at our preferred restaurant, 'La Scaiola' at Nuvolera near Brescia, as it was their 'giorno di chiusura!' but as we were now in Italy, finding a suitable alternative was never going to be a problem.

As soon as we arrived at our hotel, I telephoned Claudio Ivaldi to let him know that we had arrived and he gave me directions to our rendezvous point, the Museo Dell'Automobile in Corso Unita d'Italia, Torino. I suggested that it might be a good idea to book a hotel in Turin for the Friday night, but Claudio assured me that as we were meeting up at around ten o'clock on the Saturday morning, the trip across from Salo via the A12 Piacenza-Torino autostrada would only take around two hours, plenty of time!

Claudio's directions were spot on, and we arrived outside the museum at around nine thirty, that Peugeot is pretty nippy, it's not a Maserati, but pretty nippy all the same!!

We were greeted by Claudo Ivaldi, Rossano and Antonio Scarpetta, who seemed really appreciative that we had made the effort to attend, coming all the way from England. Now I'll be the first to admit that Maseratis are not my wife's first love, funny that, and it was only the promise of some good Italian food that persuaded her to come in the first place. So, while she read her book, Dan Brown's The Da Vinci Code, I wandered around looking at the Maseratis on display; a 3500GT Vignale Spyder, A Ghibli SS, A Quattroporte III and a wide range of Biturbos. Having paid the modest subscription of EURO 270 (for the two of us less hotels) we made our way into the museum. On entering, I asked the attendant if I could take some photos on behalf of the club and filled in the appropriate form.

In an Italian museum that houses a fine collection of automobiles from all over the world, it was rather disappointing to see just the one Maserati, even if it was a 1954 Tipo 250F.

Having completed our tour of the museum, we made our way across Turin in convoy, but not for long. When we eventually arrived at our destination, the old Fiat factory at Lingotto, I came to the conclusion that Ken Livingston must be the new Mayor of Turin, for the traffic lights in Turin were 'a la Ken!', only allowing four or five cars through on a green light.

It was lunchtime and Claudio had organised lunch at 'Al Pastificio' in the new shopping mall on the first floor of the old Fiat factory building. 'Al Pastificio' is a self service restaurant well known for its home-made pasta, I now know why!

Suitably nourished we made our way up to the next floor to visit the Agnelli Family's Art Gallery. Also on display was a photographic exhibition by Rodolfo Mailander, entitled 'FERRARI BY MAILANDER - The origins of a success story'. One photograph that was of particular interest to me was of Ascari in a Ferrari lapping an OSCA during the Grand Prix of Salo.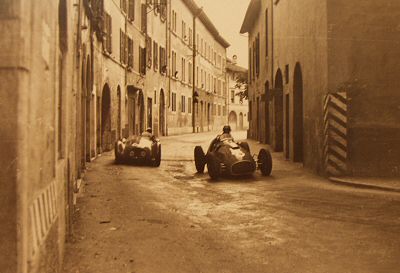 Photo by Rodolfo Mailander
Members of the BCI were now in for a rather special treat for Claudio had arranged for the Maseratis to drive up to the roof-top test track. Needless to say I was a little disappointed that my Maserati was back in England and I missed out on this unique opportunity on the roof of the the Lingotto factory.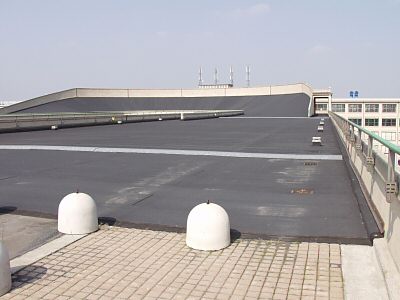 The banked curve of the famous old Fiat test track
Unfortunately our 'Meeting' ended here at Lingotto as my wife was feeling unwell, her allergy to Maseratis had kicked-in again! We said our goodbyes and sadly headed back to Salo. During the return journey I could only ponder over the thought of my missed photo opportunity and of my fellow Maseratisti enjoying their gala dinner that evening at the "Il Mandracchio" restaurant in Rivarossa.

Ah well! There's always next time!